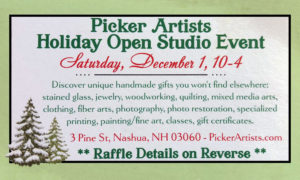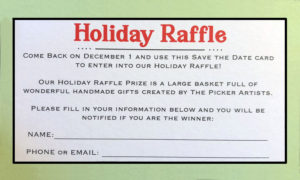 Saturday, December 1, 2018 from 10-4
Discover unique handmade gifts you won't find elsewhere!!
Stained Glass
Jewelry
Woodworking
Quilting
Long Arm Services
Mixed Media Arts
Clothing
Fiber Arts
Pottery
Photography
Photo Restoration
Specialized Printing
Painting/Fine Arts
Classes
Gift Certificates
We will have a Raffle Gift Basket of a piece of each of our items on that day.  Save this card below, or we will have plenty on that day.  Fill out the back of the card with your contact information and drop it in the box in any studio, and you will be entered to win the prize.
Holiday Open Studio Event 2018