Cindy Loranger, Art by Cindy Lee
Abstract & Jazz Art
When I paint I am driven by inspiration, emotion and sheer discovery of what unfolds before my eyes. I work with vibrant, bold colors and combine multiple media on most pieces.
My work has evolved from realism to abstract over the years and much is inspired by music.  My methods and materials are experimental. I may not use brushes at all, it may be twigs and leaves. Therefore, I always look for something new to work with, whether it be color, technique or style.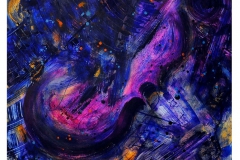 I am told that my work displays feeling and movement. They can feel the emotion or music a piece represents. It's amazing to watch someone fall in love with a painting. They seem to transcend to this place where art takes you. A place that I know so well.
Contact
Please contact me directly for more information on custom commissioned pieces or upcoming class schedules or visit my website at ArtByCindyLee.com. Visit my Facebook and Twitter pages to view my work.