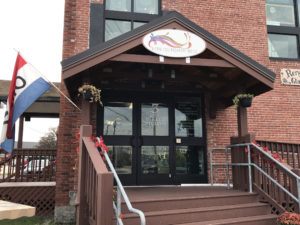 Some of the artists of 99 Factory Street Extension have found a new home!  To that end, we have created an association called the Picker Artists, and on October 31, 2016, we moved across the street to 3 Pine Street, Nashua!
For years, we have been creating art and providing classes in a variety of mediums including  stained glass, jewelry, photography, quilting, painting, mixed media, custom wood working, embossing, custom laser engraving and so much more. We are passionate about our crafts and are dedicated to exceeding your expectations in all that we do and are excited to be able to continue our creative journey!
We love our customers, and if you haven't come over to see our new digs, please do!  As always, we welcome your feedback and suggestions, and hope to see you soon.
One more note, if you are looking for studio space, please email your contact information, as well as a description of your craft to:  Hello@PickerArtists.com.
Jerry Cindy Goodman, All American Quilt Co.
Albert Wilkinson, A.W. Emboss LLC, Custom Laser Engraved Awards, Gifts, Glassware and more
Gail Moriarty, Colibri Designs, Custom Jewelry Designer and Metal Clay Instructor
Bonnie Guercio, Mixed Media Collage
Mark and Kathleen Frank, Renaissance Glassworks
Sid Ceaser, Ceaser Photography
Chris Lehmkuhl, Jewelry
Darold Rorabacher, Woodworking
Patricia Ahern, Artist
Tanya Prather, Fabric and Pottery Artist
Save